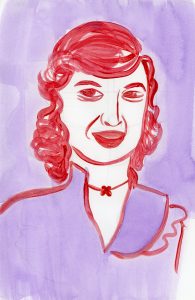 by Tarak Ammar
Born in 1950, Yolanda Alaniz was the oldest of seven Chicano children born into a family of farmers. Early on in her life she moved to California and Oregon before finally settling in Sunnyside, Washington in the Yakima Valley as part of the second wave of Chicanos that immigrated from the Southwest. For a large part of her childhood, she lived in the garage of her dad's friend, working in the fields making less than a dollar an hour. From these living standards, her mother stressed the importance of getting an education, pressuring her to focus on her studies. As of her senior year in high school, she got a job at JCPenny, making it even harder to balance her farm work, schooling and social life, forcing her to reconsider her plans towards staying a farmer. This led her to take advantage of the opportunity presented by two Chicano recruiters of UW, leading her to enroll at UW in 1969.
As a Catholic woman with conservative beliefs, attending University of Washington posed new struggles for Yolanda. Nonetheless, she still managed to excel in her college life, becoming an influential member of Chicana/o rights organizations like Movimiento Estudiantil Chicanx de Aztlán (MECHA), Brown Berets and Las Chicanas. As of 1975 she played a crucial role in a student, staff and faculty strike protesting the firing of two Chicano administrators and the secretary of Chicana/o studies. Within the same year she joined UW's socialist feminist national organization: Radical Women. Yolanda was especially involved in movements like these since she was a UW Daily reporter, where she wrote articles about issues of importance to women and people of color.
At the end of 1975, she graduated with a BA in Journalism. Given her passion for social justice and became an active member of City of Seattle Politics through the Hispanic association of City employees and the Seattle Women's commission. These were stepping stones for her making history, for in 1991 she ran for City Council as the first Chicana socialist and city employee.
In 1995, Yolanda relocated to Los Angeles to continue her political activism, specializing in Freedom Socialist Party. This work involved working for women, lesbian and gay issues for workers and immigrant rights. She even decided to continue her education, earning an MLIS from UCLA. In the mid to late 2000 Yolanda continued her work in feminist activism as an archivist and a writer.  She and Nellie Wong an co-edited an anthology, 'Voices of Color', writings by radicals of color. As of 2007, Yolanda co-author a second book with Megan Cornish, 'Viva la Raza!: Chicano Identity and Resistance'.