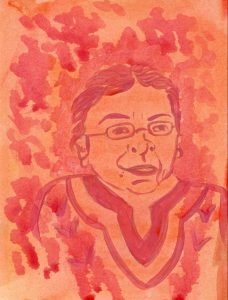 by Alejandra Aguilar
Based in Bellingham, Rosalinda Guillen is a farmworker and justice leader as well as the Executive Director of Community to Community Development. Guillen is the oldest of eight children and was born in Texas but spent her first decade in Coahuila, Mexico. Her family immigrated to Washington State in the 1960's and she began working in the fields of Skagit County at the age of 16.  This amazing badass woman works to promote food justice, immigration reform and her main focus is farmworker rights in the northwest of Washington state. She has worked with Cesar Chavez's United Farm Workers of America and has represented farmworkers at the local, state, national and international levels as the elected national vice president of the union. Guillen is the voice of farmworkers; she knows their human rights are being violated and that they are being treated like animals without a decent pay. She wants to ensure farmworkers and immigrant communities have healthy and sustainable communities. A big accomplishment in her life was, from season of 1993 to December 5, 1995, she ran the grassroots worker organizing campaign, which resulted in the first union contract for farm workers in Washington state.
Guillen states that farm workers haven't made a significant impact on policies because they are still just workers who are exposed to toxic pesticides and chemicals daily. Immigration enforcement has definitely made a big impact on farmworkers. Guillen says that majority of the workers are recent immigrants from Mexico and Central America. 70% of the farmworkers are immigrants who do not know what justice for farmworkers means or what that even looks like. Guillen has said in the past that, "The system is structured to make us lose, its structured to only make us participate only to a certain level, and then the structure kicks in and barriers start dropping in all over the place (Guillen)".  Guillen does not believe in the "American System" due to the lack of help farmworker get, she has proven many times that farmworkers rights are violet. Guillen gets her inspiration from Cesar Chavez, he is her role model and the reason she continues to fight for farmworkers rights, she is really influence by all the accomplishments Cesar Chavez did in his life.