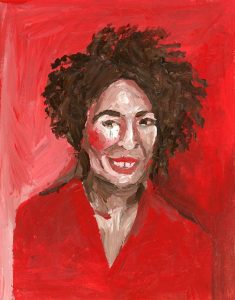 by Tomina Saelee
Ijeoma Oluo is a Seattle-based writer and speaker. She was born on December 30th, 1980 in Denton, Texas but is currently based in Washington where she graduated from Western Washington University with a BA in Political Science. She began her career in digital marketing and technology but turned to writing in her mid-thirties after the death of Trayvon Martin in 2012. She began sharing her concerns on her blog, which she had until then used as a food blog, hoping her stories would be able to connect and activate her predominantly white audience. The response she initially received was disappointing and many of her existing friends fell away instead of engaging in the issues she had talked about. However, many Black womxn she previously didn't know expressed their appreciation and her profile as a writer grew. She had publications asking to reprint work from her blog and eventually commissioned new writing.
In 2015, Oluo self-published her first book The Badass Feminist Coloring Book which is a coloring book full of feminist of all races with different illustrations and inspirational quotes. On January 16th 2018, So You Want to Talk about Race was published by the Seal Press. In the book, Oluo tackles topics such as police brutality, white supremacy and mass incarceration. Initially, Oluo's agent suggested she write a guidebook discussing the topics she regularly writes about but she was reluctant. In an interview with Bitch media she said, "Think about how much time you want to spend, as a Black womxn, talking about race, and then dedicating a whole book to talking about race. It's tough for me." However, over time she found herself answering a lot of the same questions over and over so she asked people what issues they have when talking about race and a lot of people of color reached out to her. She realized then that she could write a book and wouldn't have to keep answering these same questions. She also realized that she wanted people to be able to have a physical book that they could hold because there was a difference between reading an article online and actually holding a book in your hands. Bustle added the book to a list of 14 recommended debut books by womxn, as well as to the list of the 16 best non-fiction books of January 2018. Harper's Bazaar also added it to a list of 10 best new books of 2018.
Oluo was the editor-at-large for The Establishment which ran from October 2015 to April 2019. Her work on social issues such as race and gender has been published in The Guardian, The Stranger, Washington Post, ELLE Magazine, NBC News and more. Oluo was named one of the Most Influential People in Seattle by Seattle Magazine, one of The Root's 100 Most Influential Americans in 2017, the recipient of the Feminist Humanist Award 2017 by the American Humanist Association and one of the 50 Most Influential Womxn in Seattle by Seattle Met.