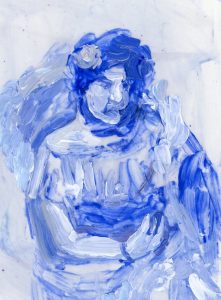 by Alyssa Lotterer
Carrie Shaw Rice was a pioneering educator, poet, and author who helped broaden the role of womxn in education in the early years of Tacoma, Washington. Rice was born in Illinois in 1862 where she graduated high school in 1880 and five years later married John F. Rice. After the death of John in 1887, Rice decided to move to Tacoma to pursue her dream of teaching.
At the Tacoma Normal Training School she started as a teacher and then moved to the supervisor for primary education from 1896 to 1901. Once her devotion and dedication became known throughout the city, Governor John Rogers appointed Rice to the State Board of Education in 1894 where she served for four years. Carrie was the first womxn to serve on the board and this allowed her to move up to the State Board of Higher Education where she was appointed secretary. After her time serving on the board Rice became the principal for the new Washington School in 1902 for eleven years before traveling abroad.
During her career in education, Rice was also active in the Chautauqua movement that worked to combine entertainment and culture to communities through speakers, teachers, musicians, showmen, preachers and other specialists across the U.S. Since this was during a time before radio and television, the movement united millions with the common experiences of culture and education. In 1895 she was named the vice president of the National Chautauqua Association and continued to serve as a trustee for the Puget Sound Chautauqua Assembly until 1896. The Chautauqua reading circle is currently the oldest book club in the U.S.
Along with her love for teaching, Rice was an accomplished poet, author, and songwriter. She wrote Tacoma's first official song "Tacoma, The Rose of the West" which was first written as a poem and then rewritten to music. The song was sung by 2,000 school children at the opening ceremonies at the Tacoma High School Stadium in 1910. Rice was also credited for the song "Childhood Straying", the textbook "West-Land Reader, First to Firth Years", the book "Where the Rhododendrons Grow", and a book of poems titled "Windows that Shine".
Carrie Shaw Rice was and still is a notable and memorable womxn in the history of Washington State. She was able to progress the culture and educational process in Tacoma as well as take a step forward for all womxn in our history.