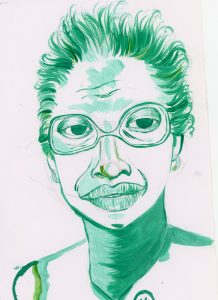 by Laura Menon
Rosa Franklin, was the first African-American woman to serve as a Washington state senator, attended several South Sound universities, and she earned her master's degree in social science and human relations from Pacific Lutheran University in 1974. Franklin was born Rosa Guidrion on April 6, 1927, in Moncks Corner, South Carolina.  The youngest of 12 children, she went to live with her aunt and uncle in Georgetown, South Carolina when she was seven.  After she graduated high school, she studied nursing at the Good Samaritan Waverly Hospital School of Nursing in Columbia, South Carolina. She then worked at a state hospital in New Jersey, and at Brooklyn Jewish Hospital in New York. At the time of her attendance, Franklin was raising children, working, and taking night classes. Her formal education began as a nurse in her home state of South Carolina. She then moved to a military base in Germany with her husband and started a family. Eventually, her husband's military career relocated the family to Tacoma where Franklin has remained ever since.
During her nursing career, Franklin was an active volunteer in the Pierce County Nurses Association and the League of Women Voters. She was a precinct officer for the 29th District (Pierce County). Franklin's activity in public service only continued.
In 1990, after years of volunteer and community work, Franklin decided to run for the state Legislature. With strong encouragement from her friends, Franklin began a successful grassroots campaign. Franklin focused on health care and social justice during her tenure in the Legislature. Franklin was first elected to the Washington State Legislature in 1990 as Representative No. 1 from the 29th District, and she won re-election in November 1992.  Then, just two months later, the State Senator for the 29th District died.  Franklin was appointed to replace him.  She won election to the seat the next year, and then ran unchallenged in her three successive re-elections. One of her chief accomplishments was starting the Governor's Interagency Council on Health Disparities. The group develops recommendations to eliminate health disparities by race, ethnicity and gender. For Franklin, the council was a time to bring people together and talk about the issues of health equity and access, so that everyone can work together in order to address the issues that are affecting the people's health in the state of Washington. The establishment of the health care council and the Washington Housing Policy Act, which helped establish affordable housing, were two of her career highlights.
From a nurse and volunteer to a longtime politician, Franklin has been deeply involved in service and community work. She retired in 2010, leaving a legacy of social justice, equity and care. As for being the first Black woman in the state senate: "I'm no Harriet Tubman," Franklin quipped. "Let's get on with it and bring people together to solve problems."