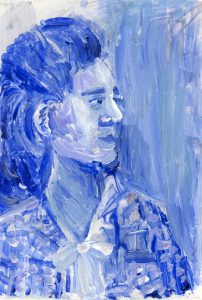 by Patricia Kuria
In 1999, the Tacoma City Council declared November 15th as, "Helen Stafford Day". Helen Cecile Beck Stafford proudly accepted her recognition in the city that shaped her journey at the age of 100. This date is symbolic as it was on this same day in 1899 that Helen Stafford was born in Wagemo, Kansas. As the tenth of eleven children born to a former slave, Stafford dedicated her life's work to securing equal rights and freedoms for minorities in Tacoma.
As a young teen in Kansas, the value of education was important, as Kansas was one of the first states to reform child labor laws. This allowed Stafford to focus on her studies and was admitted into the University of Kansas to which she graduated in 1920 with a degree in economics and sociology. The 1920s can be described as the era of roaring culture and economic prosperity in the U.S. which influenced her eldest brother, James Beck, to move to Washington. Stafford soon after decided to leave the small town life and relocate with her brother to Tacoma, a city that was attempting to stay afloat economically after the impact of WWI.
Stafford's decision influenced her activism, as in 1929 the Great Depression in the U.S. hit Tacoma hard. As a young Black womxn living in the Depression-era Tacoma, Stafford needed to find work quickly in order to maintain a steady income. To her dismay, seeking employment was challenging in Tacoma. Her qualifications did not matter; her first application to a local teaching job was denied because she was colored.
It was these struggles that motivated her to form groups such as the Matron's Club in 1927, a social gathering of young Black married women, and later on in 1930 the Tacoma chapter of the National Association for the Advancement of Colored People (NAACP), serving as president. Escaping the cruelty of the Jim Crow era in her home town, only to face with the same restrictions in Washington, showed the realities of being a minority and how difficult it can be to develop a sense of belonging. After being in Tacoma for several more years and learning about other's who felt this same disconnection, Stafford became a pioneer for the Alpha Kappa Alpha in the Pacific Northwest, a sorority for educated women established by Black women at the University of Howard.
Stafford's work as an educator did not end as she went on to become the first African-American caseworker for what was then the Tacoma Department of Public Assistance. From the farm life to having her own holiday in Tacoma, Stafford left a legacy of over sixty years of civic involvement that aimed to liberate and progress all colored women in Washington. In 2002, her odyssey came to an end at the age of 103; however, our region will always remember the messages she left behind.