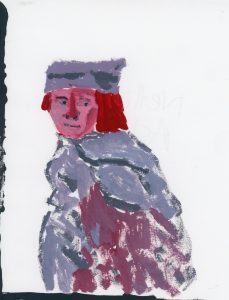 by Stephanie Lê
Born in Leavenworth, Kansas on July 15th, 1865, Nettie Craig Asberry was one of Violet Craig's six children. Her father, William Wallingford, was the owner of the plantation where her mother was a slave. At the time, Asberry was the only free slave of her siblings.
Her interest in women's suffrage began when she was thirteen years old when she became secretary for the Susan B. Anthony club after listening to one of her speeches. Later in her life, she enrolled in college becoming one of very few womxn of color to do so during her time. Not only did Asberry graduate from the University of Kansas and receive a Ph.D, she is believed to be the first African-American womxn in the United States to earn a Ph.D.
In 1893, she and her family settled in Tacoma after her husband's death. She re-married in 1895 to Henry Joseph Asberry who had a large amount of property. Shortly after, she became an organist and choir director for the Allen AME Church. Her fight for civil rights proceeded with her letters to newspapers protesting racial discrimination. Following that, in 1913 she founded the Tacoma Chapter of the National Association for the Advancement of Colored People (NAACP), which was the first chapter west of the Rockies. Asberry was legendary for the things she did, such as writing to the press in protest against a movie called Birth of a Nation that portrayed freed slaves as rapists and responsible for violence against white folks.
Her fight for civil rights and social justice also includes protesting segregation at Fort Lewis, protesting against a theater for restricting black folks from sitting on the theatre balcony, and protesting against insults from store clerks. This was also the time where Asberry became president of the Washington State Federation of Colored Womxn which was formed in 1917.
Additionally, Asberry organized a club in order to support young children in broadening their musical culture and knowledge. Her passion in music came when she was eight years old and studying piano. She had a massive piano in her home where she taught hundreds of young people from all different backgrounds. She became known for being a great music teacher, with 45 or more recitals a year.
All of the work Nettie Craig Asberry did was presented in Crisis, the magazine of the NAACP, in 1943 which listed her as one of the "First Ladies" "of colored America and [they] published a record of her achievements" (Henry, 2008). She is remembered most for the extraordinary work she did in fighting for racism and opening doors for womxn in her community. Tacoma honored her memory by creating the "Nettie Asberry Cultural Club." It was a way for her to continue existing in the community that she helped build. She passed away in 1968 at the age of 103, but will always be a Tacoma icon because of her work and resilience.