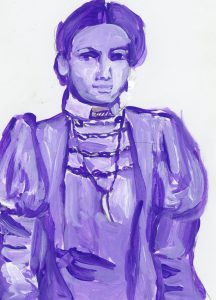 by Elizabeth Young
Catherine Montgomery was born on Prince Edward Island in 1867. At the age of thirty-two she came to Bellingham, Washington to become a founding faculty member of New Whatcom Normal School, which would eventually become Western Washington University. Over her career of 27-years, Montgomery was an educator of teachers. She supervised the educational program and trained a significant amount of Washington state elementary school teachers.
In 1900, Montgomery was a founding member of the Bellingham's Progressive, Literary and Fraternal (PLF) Club, which encouraging womxn to be involved in cultural and civic activities. Disregarding social norms at the time, Montgomery was described as a fearless adventurer that blazed the trail for countless people to follow in her footsteps both socially and environmentally. She could commonly be found hiking or as she referred to it "tramping" the mountains of Washington with her best friend Ida Baker. As a single womxn in 1902, she homesteaded 160 acres, which one day would become Mt. Baker National Forest. Along with a group of 47 womxn, Montgomery was one of the first womxn to attempt to climb the northeast face of Mt. Baker. Her adventures were featured in a 1955 Sports Illustrated article, which described Montgomery's expeditions as a "joyous victory over convention and the wilderness".
Inspired by an article about the Appalachian trail, Montgomery founded the idea of the Pacific Crest National Recreation Trail. Montgomery spread word of her idea to environmental enthuses and soon a Mountaineers' trail committee was formed. Members of the committee traveled to Los Angeles and pitched the idea to Clinton C. Clarke, who submitted approval to the National Government. In 1977 the Pacific Crest Trail (PCT) became a part of the United States National Trails System, a federal organization established under the 1968 National Trails System Act to protect the link between history, culture and the natural landscapes of the United States. The PCT trail begins at the Southern California and Mexico border and travels north 2,650 miles along the Pacific crest through California, Oregon and Washington to the northern Washington and Canadian border.
Catherine Montgomery died in 1957, at the age of 90. Listed in her obituary, she was a suffragette, philanthropist, founding faculty member, environmentalist, leader of the womxn's club movement in the 1890's and a 1920 Democratic candidate for state superintendent. She left her estate of over 600 acres to the Federation State Park located by Enumclaw, Washington, where the Catherine Montgomery Nature Interpretive Center was built to welcome guest to the park. To honor her accomplishments, Catherine Montgomery was inducted into the Northwest Womxn's Hall of Fame and given a Legacy Award.