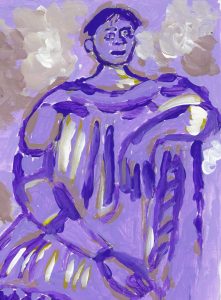 by Korey Hawkins
While Harriet "Hattie" Redmond was one of the first African American womxn to make her mark in the suffragist movement, it wasn't until recently that her contributions were truly known due to being overshadowed by white suffragists. Born in approximately 1862, Redmond and her family resided in St. Louis, Missouri at a boarding house. The daughter of Emancipated Slaves, Redmond's family relocated to California when Redmond was nine to escape southern persecution before settling down in Portland, Oregon in 1880. It was there that the family became a well-known name in the African American community, with Redmond's father becoming involved in the Portland Colored Immigration Society and the Republican Lincoln Club. While attending Mt. Olivet First Baptist Church, the first Black Baptist church in Oregon, Hattie was influenced by her parents to get involved in civil activism.
While living at home as a domestic worker to look after her seven younger siblings, Redmond would settle down and marry Emerson Redmond, a Black man who worked as a waiter at Portland's high-class hotels, such as the Portland Hotel. The marriage was reported to be unhappy and the couple had no children of their own, with Emerson passing away in 1907 at 44 years old. During that time, Redmond's race and gender left her with few options for employment. As a result, Redmond labored in several menial jobs that accepted her, some of them being a hairdresser, department store duster and even serving 29 years as a janitor for the U.S. District Court of Oregon.
By the time the suffrage movement hit Oregon in 1912, Redmond became a key leader in the struggle for womxn's voting rights. As one of the few prominent black womxn who was active in the women's suffrage movements, Redmond got involved in the Colored Women's Council of Portland, an organization that assisted womxn in poor economic situations. Shortly afterwards, Redmond became the secretary and later, president of the Colored Women's Equal Suffrage League. Through connections with churches in Portland, Redmond and the league would organize educational lectures and meetings around the city to raise awareness of womxn's voting rights. Redmond went so far as to serve on the State Central Campaign Committee to change the minds of Black men who didn't initially support their wives and daughters in gaining voting rights.
Eventually, the Oregon State Legislature chose to allow women to vote in Oregon on November 5th, 1912 and Redmond cast her first ballot to vote in April 1913. Redmond retired in 1939, faded into obscurity, and later died from bronchial pneumonia in 1952 at 90 years of age. For decades, Redmond's life story and accomplishments remained lost in history. But in 2012, historians found important information about her life during the centennial celebration of Oregon womxn's suffrage, in which her legacy was unearthed and her achievements in voting rights for womxn are now recognized today.