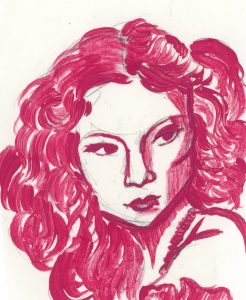 by Anthony Atendido
Bessie Hall Dempsey was born in Arkansas on October 5, 1914, as the youngest in a family of four. When her parents divorced four years later, Bessie and her sister stayed with their mother, Jessie Des Champs, and the three moved to Montana to start a new life. After Bessie's mother remarried, they changed their last name to Hall. In 1922, the marriage ended in another divorce so Bessie and her family moved once again–this time, to Seattle. Studying at the Cornish School of Fine Arts, Bessie pursued her passion for dance and choreography. She also performed with her sister at Northwest Vaudeville theaters, as the Hall Sisters.
In the wake of the Great Depression, they moved to California where she sought opportunities for a solo career in show business. She twirled and performed her dance routines at various night clubs, ballets, and movies throughout San Francisco and Los Angeles. With her recognition of performing fine arts shows, she started adopting to her stage name: Yvonne St. Clair. She married Lee Dempsey during her performing career and gave birth to her one and only son Herbert Lee (Mark) Dempsey a year later. In the background, Bessie continued her education studying Mechanical Engineering at the University of Southern California. While attending university, she supported her family by working full-time at the Bank of America. Unfortunately, Bessie and Lee's marriage did not last as they were divorced in the year of 1949, Mark stayed with her and they moved away to start again.
As a multi-talented student, she studied, persisted, and enhanced her skills in physics, mathematics, and foreign languages. She earned a degree in Mechanical Engineering with a concentration in Aerodynamics and graduated with honors, setting herself up for a career in the engineering field. Due to gender norms and low acceptance for these competitive engineering positions, she changed her name to B.M. Dempsey in an attempt to avoid the bias against womxn in engineering fields. She moved back to Seattle in 1948 and was hired by Boeing Airplane Company as a Junior Engineer Class B, becoming the company's first female engineer. During her time at Boeing, she received several promotions and, in 1951, became the first woman elected to Tau Beta Pi, the honorary engineering society. Bessie Hall Dempsey worked at Boeing for nearly 24 years. During her Boeing career, she still engaged in local amateur performances and lived on a Seattle houseboat with her son Mark. Sadly, at the age of 57, Bessie Hall Dempsey died in Seattle on September 16, 1971, after battling a long illness.