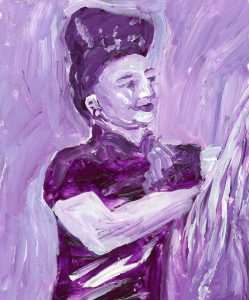 by Melinda Sandstedt
Ruby Chow was born in 1920 in Seattle, Washington to Chinese immigrants. She was the eldest daughter of 10 children, eventually dropping out of high school during the Great Depression to help support her family. At 17, she moved to New York City where she worked as a waitress at a gay bar, an experience which left her with considerable empathy for the gay community. She also met Ping Chow, a member of a Chinese opera company; in 1943 they married and moved back to Seattle.
In 1948, they bought an old mansion that was converted into a restaurant. They opened Ruby Chow's Restaurant, the first Chinese restaurant outside of Chinatown. Chow acted as hostess while her husband was the chef. The restaurant was an overnight success, quickly becoming a magnet for politicians, CEOs, and local celebrities. Many young Chinese in need of work also passed through the restaurant over the years, one of them being Bruce Lee, whose father was an old friend of Ruby's husband.
Although Chow enjoyed quick success and popularity, the relations between Chinatown and the rest of the community were still infected with racism and ignorance. Chow and her husband began a campaign to demystify Chinese culture by inviting the general public to Chinese New Year celebrations and other events, making the culture more widely accepted in predominantly-white Seattle. She also pressed local governments and schools to add more people of color to their boards and commissions, and helped form the Chinese Parents Service Organization to raise funds for public services.
After years of civic service alongside her restaurant business, Chow decided to run for the King County Council 5th District seat in 1973. Although initially unsure of which political party to support, she later said, "I felt that I belonged in the Democratic Party because it is more people-oriented. I discovered I had been a Democrat all my life and hadn't realized it." Chow won the seat by 220 votes, becoming the first Asian American elected to the King County Council.
As one of the first people of color in the county government, she was dedicated to helping her constituents, particularly immigrants. She lobbied the Seattle School Superintendent to institute a bilingual program to accelerate English proficiency for immigrant children, and also focused on human services and health needs, drug and alcohol services, and low-income housing.
The Chows leased Ruby Chow's Restaurant in 1979 and retired from the business. In 1984, Chow announced that her third County Council term would be her last, however, her passion for activism and community service lives on through her children. Inspired by their mother's dedication and tenacity, they too went on to work in public service.