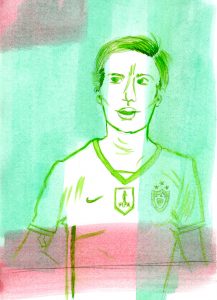 by Alex Balkan
Born on July 5th, 1985 in Redding, California, Megan Rapinoe was accompanied by five siblings and supportive parents; her dad coached the majority of her sports teams growing up, and she often played various sports with her siblings as well. She participated in a wide variety of sports in high school such as track, basketball, and soccer, while still maintaining her honor roll status at her home school of Foothill High School. Additionally, Rapinoe has taken advantage of her platform as a globally recognized athlete in vocalizing the treatment she hopes to receive for herself, as well as other individuals who are a part of the LGBTQ community.
Rapinoe exclusively played for the club team Elk Grove United and while playing, she was selected for the All-American game in 2004 and participated in the Olympic Development Program in the same year. From 2005-2008, Rapinoe and her twin sister both accepted full ride scholarships to play for the University of Portland. After being selected for the U19 Womxn's National Team in '08, her collegiate career came to a halt. She was drafted into the Womxn's Professional Soccer league straight out of college, where she played from 2009-2011 until accepting offers overseas where she played in Sydney, Australia and Lyon, France before finally returning back to the Pacific Northwest to the Seattle Reign in 2013.
Megan Rapinoe, currently 33-years-old, has never shied away from controversy. On the playing field, she is widely respected for her gold medal and other appearances in the Olympics, along with her crucial involvement in the US Womxn's National Team World Cup victory, earning herself a vote onto the MVP list from this tournament.
However, her athletic accomplishments only play part of the role in her attention and reputation. She was one of the first female athlete's to openly come out as a lesbian during an interview with the national "Out" magazine. From this point on, tabloids and other social websites began to closely follow her personal life and make speculations about her relationship status. This increased publicity and being closely watched by the public eye put Megan Rapinoe in a spotlight.  She has continued to take advantage of this celebrity status by voicing her opinions on touchy subjects like LGBTQ rights and promoting equality amongst all sexualities.
She spends her free time outside of soccer as a representative of the Gay Lesbian Straight Education Network (GLSEN) organization. She primarily focuses on erasing the negative connotations associated with words like "gay" and "queer," while at the same time promoting an environment which encourages sexuality equality on all platforms. At GLSEN, their mission is to create an educational platform for students in grades K-12 which educates them on equality and respectful treatment of all sexualities. Megan Rapinoe chose to take a courageous stand in voicing her support of the LGBTQ community and she successfully utilizes her position of power to increase support and awareness for her cause.