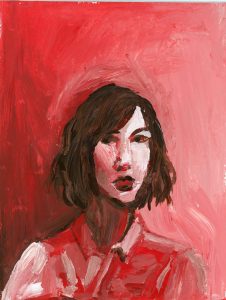 by Violet Depintrix
Carrie Brownstein was born September 27, 1974 in Redmond, Washington. She grew up always wanting to perform, and turned to acting as a form of escapism when her family's inner turmoil became too much. Brownstein first rose into the public eye through the band Excuse 17, which ran from 1993-1995. In Olympia's Evergreen State College, the band Sleater-Kinney was born as a side gig out of the romantic relationship between Brownstein and Corin Tucker. This relationship led to Brownstein later being outed as bisexual to the public. The band (named after the street they practiced on) rose to prominence in the Riot Grrrl punk era of rock n' roll music. Later the drummer Jane Weiss joined the band. The feminist messages in their music speak of a need to bring change to society, something that Brownstein is still passionate about today.
In 2005, she formed a sketch comedy duo with Fred Armisen working on sketch comedy videos, two years before the show Portlandia was ever conceived. In 2006 Sleater-Kinney dissolved because the members got pulled into different life directions, and due to the inactivity of the band which caused anxiety for Brownstein.
The following year after Sleater-Kinney's separation, she won the Oregon Humane Society Volunteer of the Year Award by spending her time heading adoption programs and helping dogs. She then worked in an ad agency for six months. After Sleater-Kinney's long hiatus, Brownstein started the band Wild Flag in 2010. She also blogged for NPR for a short time, something she stated as being the most depressing time of her life. The quiet writing life didn't suit her; just sitting at home with her dog trying to write smart things about music didn't work out. She thrives off of chaotic environments, so she made the decision to go into sketch comedy and acting full time. Portlandia, a sketch comedy show which she co-created and co-starred in became her main focus at this point. It satirizes the quirky, hipster lifestyles of the people of Portland, Oregon. She balanced Portlandia's comedy with a dramatic role in the acclaimed Amazon series Transparent, where she plays the voice of reason, the therapist. Brownstein has acted in many other productions, including a lead role in the lesbian film Carol (2015) and starring on Saturday Night Live.
Sleater Kinney reunited in 2015 with their comeback album "No Cities to Love". Which included a music video of the song "A New Wave", animated by the Bob's Burger's animation team and features characters from the show. In 2015 Brownstein also came out with her memoir Hunger Makes Me a Modern Girl. The novel chronicles her struggle and insecurity with her identity and relationship with music. And above all else, Carrie Brownstein inspires us to be our own, quirky selves without shame.