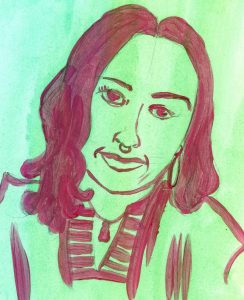 by Julia Dannoun
Unlike most kids, around ten years old Tracy Rector knew exactly what she wanted to be when she grew up. Rector grew up in Edmonds, a small town located north of Seattle where people saw her mix-race features to be unusual at the time. In the fourth grade, she announced to her class that she wanted to be a Native American advocate. Little did Rector know, her upbringing in Edmonds would shape her future as an advocate.
Rector was raised in a dysfunctional home and spent lots of time looking after herself. She was a quiet girl who was more of a listener, and as a result, spent the majority of her time watching TV or films to escape. At a young age, Rector noticed the lack of representation there was for people of color on television and of mixed-race folks. That's when she developed the idea she hoped to achieve one day in order to make a difference. Little ten-year old Rector grew up to be a filmmaker who uses her art as a tool to empower Native American communities. Rector's educational form of filmmaking helped her come out of her shell, with the realization that listening is a powerful skill. Now at the age of 47, she uses multiple forms of art mediums with the purpose to bring about social justice in helping to get those marginalized voices out there.
Two years ago, president Trump was trying to block Syrian refugees of the Syrian Civil War from reaching shelter in our states. Rector asked: "who has the right to refuse safety to these people? [..] when nearly everyone is an immigrant or the descendant of one." She took her fury out by splashing posters she created throughout the city of Seattle to remind those who are politically concerned, "You Are On Indigenous Land." Rector became an advocate not just for indigenous communities, she became an activist for all.
Tracy Rector is a storyteller, educator, filmmaker, coordinator, co-founder of Longhouse Media non-profit organization, multi-media artist, and a 2016 Stranger Genius. Currently, she is a curator of the "Yəhaw̓ Exhibition at King Street Station." The exhibition uses a public space that brings together a common cause by displaying artwork from over 200 indigenous artists, located at King Street Station inside ARTS. She has made over 400 short films that revolved around indigenous awareness and has transformed her storytelling skills from films to gallery exhibits. Some displayed achievements from the past include "You Are On Indigenous Land" at Core Gallery, "Re:definition" at the Paramount Theatre Gallery, "Women On the Brink" at Vermillion Gallery, and "Bloodlines" at Bridge Productions. Rector utilizes her projects to provide opportunities for youth and Native communities. Her work as a female artist influences indigenous people by representing the history of their existence. Rector continues to dedicate her work around mentoring the youth, womxn, and LGBTQ indigenous artists of the Pacific Northwest.