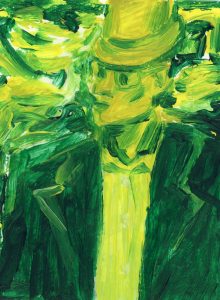 by Kane McIntyre
Monae Smith, mainly known as Medusa, in her own words, "is a lyrical seducer." Many herald her as the Queen of Underground Hip Hop. She is defined through her art and music that empowers women, couples, and children who might require direction in their life. She believes in the empowering of others to have the ability to be open-minded and to question ourselves. Inspiration toward her musical career came from her family and her community, both passing on lessons and values that make her who she is today. Her musical career not only led to involvement in different musical projects, but it also developed a sense of community among the artists she worked with and the music she created.
Born and raised in Los Angeles, she grew up with her mother, grandmother, great grandmother, and great aunties. Medusa's musical inspirations came from her mother, father, and her aunt. Medusa's dedication to her style of Hip Hop dance was because of her mother. Also a dancer, Medusa's mother couldn't achieve her dreams due to having her at a young age. To be what her mother couldn't was important for Medusa to honor. Though her father's role was part-time due to him serving prison time, his architectural talents gave Medusa inspiration. In her view the way he applied his methods in his work, she did the same when creating her music. A defining moment that directed Medusa to her dreams was the time spent with her aunt. Her aunt, Billie Calvin was a writer and was part of a group called The Undisputed Truth, touring with Jackson 5 in the 1970s. At seven years old, Medusa saw Jackson 5s live performance, and after watching them and looking upon the crowd, she knew that her path was toward music and dance. Her first involvement within the Hip Hop scene goes back to her high school days, during the time where pop locking and break dancing was very popular.
Much of the Hip Hop scene involved practice for performing in various dance routines and dance battles with people in different dance crews. One of her most important contributions is her work with projects like Project Blowed, an open-mic workshop that started in 1994 based in Los Angeles containing many music groups. She was a music commenter of the project for twenty years while participating and winning many freestyle battles. The workshop was a circuit for Hip Hop culture and a place where many rappers and music groups of all genders would freestyle, rhyme, and say whatever came to their minds. The workshop resided within non-violent values and encouraged respect and strict norms to follow, such as being polite, and also, as an outlet and alternative career opportunities outside of gang involvement for young black men. Medusa was part of something created a network and community for rappers that function as a family, and that led to positive outcomes on the local community.