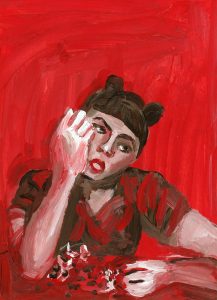 by Jisoo Choi
Monyee Chau is a queer second generation immigrant artist who was born and raised in Seattle, Washington. She prefers the pronouns of she and they. Her family had restaurants in the Chinatown International District, and she was raised in the last one they owned, which closed when she was eight years old. Her dream while growing up was nothing other than being an artist, and her eventual practice became intertwined with her everyday life of ancestral healing, decolonization, and personal growth. It took them a while to understand what they really wanted to make art about, but it became clear once they acknowledged the pain, and trauma caused by forced assimilation as a second-generation immigrant. She now makes work about what it means to be a queer Asian American, and what it means to understand her identity in all of its complex facets. Chau's work and its purpose are to give permission to herself to be who she is, to give validity to her experience. They have spent twenty-one years of their life believing that they weren't valid, but their searching was through a white world rather than in themselves. She always had a difficult time with words as she grew up in a household where her grandparents and parents spoke four different languages, so English then represented a place of insecurity for despite the fact that it was her first language.
They feel fascinated in the communication that happens while using their hands and creating things where not only people listen but project their own experiences onto their work. She hopes that her work can show others that they DO have the permission to be themselves. Because of the nature of her practice being intertwined with who she is, it involves community building, decolonization of art spaces, and food. They are all important facets of learning to be genuine and kind to herself, because they are all steps towards healing. For example, it is a practice of love and understanding the relationships they have with their ancestors when they brought them here to enjoy the privilege of opportunity and to share what makes their culture special, rich, and unique.
Chau's medium and practices differ depending on the type of conversation she wants to have – if she wants to talk about fragility, the glass work comes into play and if she wants to talk about labor, she'll spend hours doing performances of embroidery with strangers. This is why art is important to her and why she believes that it's important for the world as it is her mode of communication.
She hopes in the future to build community, uplift queer/trans/people of color's voices, decolonize art spaces, and help heal. She makes art not only to heal herself, but to heal her community. Their story is not about experiencing a split identity between the two cultures, it's about defining a new one.