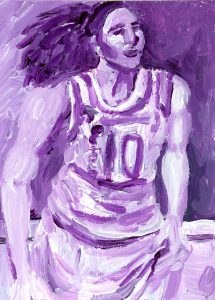 Suzanne Brigit Bird was born on October 16, 1980, in Syosset, New York. She went to school at Christ the King RHS in Queens, New York, a Catholic school best known for basketball programs. Bird joined the University of Connecticut in 1998 where she played basketball becoming the team's starting point guard. In all her four years in the University, she led her team being rated as a deadly three-point shooter, and by the time she was leaving the school she had an over 90% average from the free throw line. While a member of the team, they won NCAA championship twice. The University recorded her as the best player in history where she won "Naismith Award". Bird won the "Wade Trophy" in 2002.
Bird began her career at the Womxn's National Basketball Association (WNBA) in 2002 where she was drafted as the number one overall pick. She is unique because it was the first time a point guard was given this position.
She joined Seattle Storm team in 2009. Bird led the team scoring more than 14 points each game. She was elected to All WNBA First Team. Bird played alongside superstars like Lauren Jackson and Betty Lenox in 2004 which marked as the first WNBA championship.
The second win was in 2010 and the third championship was in 2018. She has also won four Olympic gold medals from 2004 to 2016. She is one of the 11 womxn who has achieved all  four accolades. In 2011, fans voted Bird as one of the WNBA's Top 15 players of all time.
The bird is referred to as American-Israel, in 2012, she developed a knee injury that resulted in surgery preventing her to participate in 2013 season. She went back to the field in 2014 where she participated in 33 games finishing with an average of 10.6 points. During 2016 she was still in the game after extending her contract with Storm where she gained an average of 12.8 points per game. The deal with Storm was a multi-year deal in free agency. In 2017, she was not able to participate in the April games because of a knee surgery and went back in May and in the games that followed, she performed tremendously. Part of her personal life is that Bird came out openly as a lesbian and she is dating a soccer player named Megan Rapinoe. After dating about one year and a half, Megan Rapinoe decided to move into Sue Bird's condo.