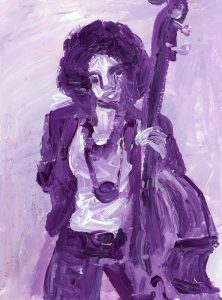 by C.R. Nye
Born in Portland, Oregon, Esperanza Spalding was gifted with a natural talent for music. Not only is she an amazing jazz singer, but she can also play the upright bass at the same time, a skill that takes most musicians years to be able to do. While her music is categorized as jazz, she incorporates elements of R&B and Brazilian music into her songs.
Due to an auto-immune deficiency disorder, she had to be homeschooled, where she discovered her love for music. Starting out with the violin, she joined and eventually became the concertmaster violinist for the Chamber Music Society of Oregon. At 16, Spalding picked up the upright bass. Considered a musical prodigy, she attended college at the Berklee School of Music in Boston, graduating at 20 years old; Berklee also hired her after she finished her degree, becoming Berklee's youngest faculty member.
The upright bass was her entry into the jazz scene. After several years performing with a variety of artists, she released her first solo album, Junjo. Two years later marked the release of her second album, aptly titled Esperanza. Not only did this album reach the top of Billboard's Contemporary Jazz Albums chart, but it remained there for over 70 weeks.
Due to the album's commercial success, Spalding was nominated for Best New Artist at the 2011 Grammys. While well-known in the jazz world, this was the first time the general public was introduced to Spalding. Now known as one of best upsets at the Grammys', Spalding beat out other popular artists such as Drake, Mumford & Sons, Florence + the Machine and Justin Bieber, who had been the favorite to win. This was the first time that a self-identified jazz artist had won this award. Since her major win at the 53rd Grammys, she has continued to climb to the top of the jazz scene. In a musical genre that is male-dominated and musically conservative she has continued to defy the odds. Unlike many jazz musicians who don't usually incorporate elements from other genres, Spalding has drawn from a variety of genres based on her multiethnic background. R&B and Afro-Latin genres are among her top influences, especially artists such as Sam Cooke, Smokey Robinson, and Earth, Wind, & Fire.
During the Obama Administration, she played multiple times at the White House, including her rendition of Stevie Wonder's "Overjoyed" when the White House honored Stevie Wonder. Other notable musicians she has played with includes Prince, Lalah Hathaway, Janelle Monáe, and Bruno Mars. Currently, she works at Harvard University as a member of the music faculty. She also spends a large portion of her time back in Portland, Oregon participating at benefits and fundraisers. Several groups she's worked with includes Bienestar, the Promotoras, and the Innocence Project. In the case of Bienestar, she has a personal connection since she grew up in low-income housing provided by Bienestar. When it comes to activism, she prefers to form relationships with the communities she is helping.