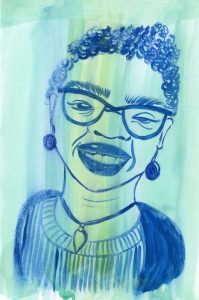 by Catherine Thompson
Michele Storms is a leader of civil rights organizations and established racial justice in the Pacific Northwest. Currently, she is the Executive Director of the ACLU of Washington where she advocates for the civil rights and liberties for those who most need it in the state because she believes that the US constitution promises certain rights but that these rights are not being received by many people in the country. She also has a background of building programs that provide civil legal aid and activism for civil rights and liberties, which helps make this possible.
Storms started her legal career at Evergreen Legal Services in 1988 with a focus on family law, custody, domestic violence.  She later served as a faculty member at the University of Washington School of Law in the clinical law program for eight years where she founded the Child Advocacy Clinic.  At the University of Washington School of Law, she taught child advocacy, family law, and interviewing and counseling. Later, Storms became Assistant Dean for Public Service and founding Executive Director of the Gates Public Service Law Program at the University of Washington School of Law. There she developed a program to prepare young lawyers for a lifetime commitment to public service. Additionally, she has also worked several other civil rights and racial justice organizations in Washington, including the Northwest Justice project and Colombia Legal Services, both of which she has previously held the position of statewide advocacy coordinator. At the two, Storms coordinated civil legal aid advocacy in the areas of family law, youth and education, housing, elder law, Native American law and right to counsel issues for five years.
Furthermore, Storms also served on the Washington State Access to Justice Board for six years and was a Management Information Exchange board member and the elected secretary of that body. Before that, however, she was a deputy director and managed a team who lead the ACLU's efforts in reforming police practices and preventing police violence in Washington for two years. Storms was awarded a King County Bar Association Young Lawyer of the Year Award in 1992 and was honored by Washington Women Lawyers with a Special Contribution to the Judiciary Award in 1998. In 2008 she received the Staff Person of the Year Award from the University of Washington Law School Student Body. Over the years, Storms has provided training and has written on topics such as leadership and diversity while also serving as a facilitator for meetings and retreats for nonprofit organizations.