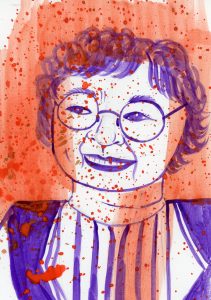 by A.M.
A teacher and activist, Aki Kurose spent her life advocating for education and social justice through pacifism. Through her beliefs in peace and nonviolence, she worked towards the betterment of her community, advocated for desegregation, and strove to improve education.
Born in Seattle, Aki Kurose was the daughter of two Japanese Immigrants. Kurose was instilled with values of pacifism and empathy from an early age. Throughout her early life she witnessed her parents struggle in the face of discriminatory housing laws. In 1941, during her senior year of high school, Kurose's life was flipped upside down with the bombing of Pearl Harbor. The day after at school her peers and teachers taunted and blamed "her people" for what had happened. Despite being born in United States, she was the subject of prejudice and this deeply affected her. Soon after, in 1942, her family were sent to an internment camp in Utah. After Japan surrendered, internment camp detainees were finally allowed to leave and return home. Kurose briefly lived in Chicago after her marriage, but soon returned to Seattle. When she returned, she and her husband experienced hardships in finding work and housing due to remaining hostility towards Asian Americans, especially Japanese Americans. This pushed Kurose to find multiple ways of helping her community.
Kurose focused her time on community building and education throughout the 1960s. She worked with several cooperatives, joined the Congress of Racial Equality (CORE), and served on the board of the Young Women's Christian Association (YWCA). She helped advocate for fair housing, the desegregation of schools, and the end of employment discrimination. Kurose also helped establish a Head Start program in her neighborhood with other parents who were concerned that children in their neighborhood were being ignored. Their efforts payed off as they became associated with Seattle Public Schools, becoming Washington's First Head Start Program. Kurose spent her time leading a girl scout and cub scout troop while taking classes in childhood education. During this time, she realized that she had a passion for working with children. Kurose felt that she was not only the teacher, but also a student herself. This passion would lead Kurose to further pursue education and become a teacher.
In 1972 she completed her bachelor's degree in Sociology at the University of Washington and with this she would pursue a career in teaching. Kurose stared work as an elementary teacher in 1974 and helped aide in Seattle's desegregation efforts. The next year Kurose worked at Laurelhurst Elementary, a predominately white school. She was one of the first teachers in Seattle's desegregation program. Kurose continued to teach, even after the age of 70.