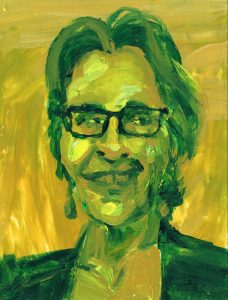 by Elisabeth Schnebele
Whether she is at our nation's capitol acting as a National Student Coordinator, speaking at the National Women's Studies Association, publishing books that shed light on the injustices present within society or teaching classes under the major Gender, Women and Sexuality Studies that she helped create, Julie Shayne is always working to empower the marginalized. Growing up, her parents raised her to speak her mind and ever since she has been doing just that. By the time she graduated high school in 1984, Ronald Reagan was president and wars in Central America were raging. Consequently, hundreds of thousands of refugees fled to find solace in the United States. Rather than merely standing by and watching the atrocities unfold, Shayne took action. With so many people's lives at risk she took a risk herself and left college early to serve as a solidarity activist. She quickly became an organizer with a passion to get the US out of El Salvador. Working with the Committee in Solidarity with the People of El Salvador (CISPES) she was highly successful to the point that the National Office contacted her, offering her a position as National Student Coordinator. Shayne did more than just acknowledge the oppression within society, she did something to confront it. Her dedication to act, make change, and use her voice to speak for those who are involuntarily silenced are just some of the many reasons Shayne is recognized as an inspiration.
Eventually she returned to school at San Fransisco State University where she became the second cohort to receive an MA in Women's Studies. Her drive to work in solidarity with marginalized communities continued when she translated her activism into writing. She dedicated herself to writing books that would represent a voice for those whom society has viciously silenced. She has since applied that same approach by becoming a professor. With a BA and MA in Women's Studies from San Francisco State and a PhD in Sociology from the University of California at Santa Barbara, Shayne could be teaching just about anywhere. Currently she is at UW Bothell, where she recently won the Distinguished Teaching Award. Shayne is more than just a professor, she is a mentor. Through the award, she was credited with not only helping students reach success academically but in their personal lives as well. Primarily, as she has been able to help first generation students, women, survivors of sexual assault and many others find their voice through her continuous support and message of empowerment. Ultimately, her goal is to enable marginalized students to unleash their inner badass. In this way, what is so unique about Julie Shayne is that she has not only gone out and helped change the world for the better but she has also inspired and empowered others to do so as well.