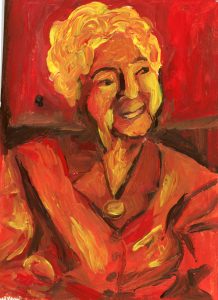 by John Ghattas
Margaret Murie tirelessly worked for more than 70 years to protect the wild spaces of the western United States. Because of this Murie is considered the grandmother of the conservation movement and won many awards during her lifetime. In recognition of outstanding accomplishment in the field of environmental and conservation protection, Murie was given the Audubon Medal, one of the highest honors in conservation, in 1980. Margaret Murie received the Sierra Club John Muir Award in 1983; this award honors an esteemed record of leadership in national conservation cases, including the continuation of John Muir's work of establishing and preserving wildernesses and parks. The Presidential Medal of Freedom is the highest civilian honor in the Nation given by the United States President for contributing to world peace, the national interests/security of the United States, or cultural or other significant public or private endeavors; Murie received this award from former President Bill Clinton in 1998.
Margaret "Mardy" Murie was born August 18, 1902 in Seattle, Washington. Her family moved to Fairbanks, Alaska when she was a young child, and grew up exploring the natural world. In her autobiography, Two in the Far North, she talks about her experience living in a log cabin in Alaska. She was the first womxn to graduate from the Alaska Agricultural College and School of Mines. She lived to the age of 101, dying in 2003.
In 1924, she married Olaus Murie. In 1927, the couple moved to Jackson, Wyoming. The two did a 500-mile exhibition by dogsled to study caribou and later completed a river journey for their honeymoon. A few years later, the couple bought a dude ranch in Wyoming to study elk migrations. Murie said she wanted to be able to walk out her backdoor and into the forest.
In the early 1960s, the Muries lobbied Congress on behalf of the Wilderness Act to extend their preservation campaign. Margaret Murie continued to support the campaign after her husband's death in 1963. She attended the signing of the act, on September 3, 1964, in the White House after being invited by former President Lyndon B. Johnson.
Scientists and conservationists often visited her to discuss and solve problems relating to wildlife conservation. Margaret became even more active in the conservation movement after Olaus Murie passed away. She visited New Zealand, Tanzania, and Alaska to learn about wildlife in those places. She wrote numerous articles, gave speeches, and attended hearings. Margaret Murie is highly recognized for her work and awards of high honor for all her accomplishments in the conservation and environmental fields. From the beginning of her life till the end, Murie is an inspiration to many who want to help preserve and protect the environment, its parks and wilderness.