How Not to Worry About Expense: Modern Monetary Theory and Climate Spending
"How ya gonna pay for it??" It's the question that always comes up when government policies for social good are proposed, especially big climate legislation like the Green New Deal. So could Uncle Sam actually go broke if the U.S. government spends too much on climate mitigation? The answer to this question might blow your mind, because it's almost completely absent from public discourse: there's no need for government policies to pay for themselves. It's impossible for currency-issuing countries to go bankrupt, so neither cutting spending in other government programs nor raising taxes is needed to pay for climate policy.
The idea that government policies at the national level have to pay for themselves is based on a fundamental misunderstanding of how federal budgets work. All economies of the world have fiat currencies, meaning that they are not backed by any real physical resource like gold. Governments can print as much money as they desire, especially to enact social programs like a green energy transition that will have tremendous societal benefits. Deficits in the federal budget are always good for someone, because the government debt is equivalent to the total amount of cash in circulation in the economy.
It's not surprising that there's confusion about monetary theory. We're all used to watching our bank accounts getting smaller and smaller as we spend money. Household budgets have to be balanced. And politicians use the excuse that they can't afford more government spending all the time. It's great cover for when our leaders don't want to admit that they don't support basic human rights for their constituents.
What's the risk in big spending? Surely a government can't keep creating money indefinitely. Eventually creation of money will cause inflation, meaning the value of the currency becomes lower. But not all spending is alike in terms of its potential to cause inflation. Cuts to social programs made in the name of inflation avoidance are often both cruel and ineffective. Mainstream economists who preach austerity "remain wedded to a fifty-year-old doctrine that relies on human suffering to fight inflation," as Stephanie Kelton states in her book The Deficit Myth. 
More relevant to inflation is the question of "real resources" (an actual term used by economics). For instance, a government program to give everyone a personalized birthday song from "Weird" Al Yankovic wouldn't work because Al would get tired. You can imagine more realistic limitations on real resources, from scarcities in raw material availability, work force training, or time.
Inflation, though, just as often occurs from a lack of government regulation. For instance, producers of prescription drugs with monopolies on production in the United States hike up the prices of their medicine, leading to rapid price increases even in century-old medicines like insulin. Most other countries around the world prohibit such behavior, and have not experienced inflation.
Proponents of Modern Monetary Theory (MMT), the economic theory described in this section, center inflation in their analysis of government spending. MMT economists generally think that there's risk of inflation due to large government spending only when the country is close to full employment. In times of economic distress, it's quite safe to enact large spending policies.
MMT expert Kelton states that instead of seeking to balance the budget, we should use public money to "balance the economy, so that prosperity is broadly shared." Will a government program help to sustain full employment? Will it help to bring about a more equitable distribution of wealth?
Since the 1980s, though, there has been a large push in governments towards austerity measures, meaning cuts in social programs. At the same time, crises of capitalism like the 2008 housing bubble bursting and the COVID-19 depression have resulted in governments creating huge bailouts for affected corporations. Not surprisingly, these decades have also seen huge increases in wealth inequality, driven by this policy of socializing losses and privatizing gains. It's important to point out the role of racist framing in allowing such austerity measures to be implemented in the first place.
Envisioning Abundance with MMT
So if the government can pay for any programs it wants, why don't we all have nice things like free public college, single-payer health care for all, and a universal basic income? We could! It would only take political will to implement them.
Because of its currency-printing capability, the federal government is uniquely able to offer a job guarantee, enabling unemployment to end for anyone who is willing to work. A job guarantee is in the UN Declaration of Human Rights, was supported by Martin Luther King, Jr. and Franklin Roosevelt, and is a very popular proposition in the U.S., with larger than 75% support. A job guarantee can aid significantly in limiting the severity of recessions. Usually upon onset of an economic downturn, unemployment rises, and then spending falls, causing a cascading impact. A government job guarantee can curtail this vicious cycle, while allowing workers to retain skills and avoid depression that can be linked with unemployment. A job guarantee can also be harnessed towards democratically-determined public good.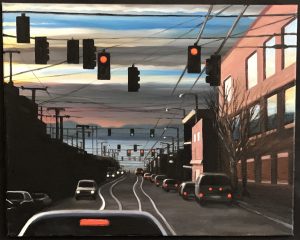 MMT thinking is especially useful as a ticket to opening up more equitable visions of post-carbon futures. Let examine some actions that have been proposed by climate justice advocates around the world through the lens of MMT.
Consider an existential threat to our civilization. What would a democratic government do to preserve its society? They would dedicate whatever real resource is needed to protect its people. While many might imagine a world war as the threat, the climate crisis is just as appropriate. Visions of an equitable, fossil fuel free future, with a just transition for all workers needs not be constrained by the cost. It's only constrained by the real resources, most importantly the highly renewable resource of citizens demanding democratic change. How would you imagine using public money for climate justice?
The Just Solutions Collective are "a collective of BIPOC-Frontline leaders and groups leading justice-centered policy and program efforts in states, nations, and communities."