11

Jérôme Pétion de Villeneuve, Mayor of Paris,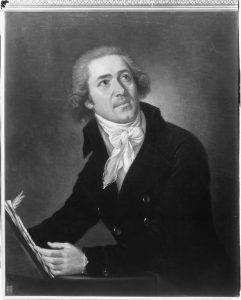 January 3, 1756-June [18?], 1794
Jérôme Pétion de Villeneuve began his life as a lawyer and writer. Elected as Paris' second mayor November 16, 1791, he allowed the mob to overrun the Tuileries on June 20, 1792. He did not step down as mayor until 1792, when elected to the Convention for Eure-et-Loir (National Convention).
On June 3, 1973, the party Jérôme aligned himself with, the Girondins, was expelled from the Convention. Jérôme escaped arrest for nearly 11 months; worried he was unsafe and would eventually be caught and guillotined, he committed suicide. His body was found in a field, half eaten by wolves
Bibliography of Sources:
"Jérôme Pétion de Villeneuve." Wikipedia:  The Free Encyclopedia. Accessed May 22, 2019. https://en.wikipedia.org/wiki/Jérôme_Pétion_de_Villeneuve.
Image Caption:
Fig. 1. George Lance, Posthumous Portrait of Jérôme Pétion(?). 1800s, photographic negative of painting. Frick Art Reference Library Photo-campaign Negatives Collection. Available from: ARTstor. Accessed May 12, 2019. https://www.artstor.org/.