1

Kaley Aldrich on Mary Parks Washington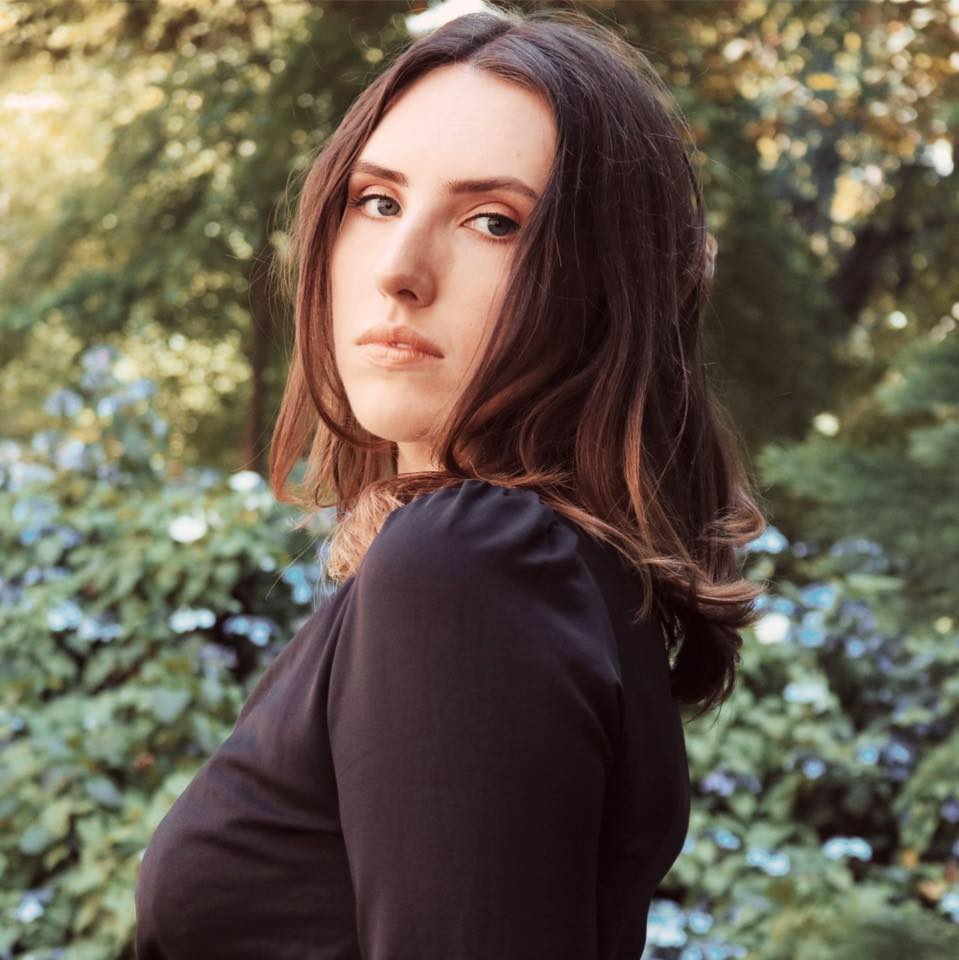 Kaley M. Aldrich is a Senior studying English and Political Science at the University of Washington. She is the first in her family to attend college, and most of her work and writing includes reproductive rights discourse and law. In her free time, Kaley enjoys writing, politics, being with her dog, and creating music.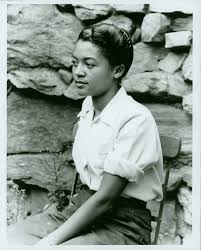 Mary Parks Washington (1924-2019) was an African-American fine artist. She earned her Bachelor of Arts degree from Spelman College in Atlanta, Georgia, followed by a Master's degree in art from San Jose State. Washington studied at the 1946 Summer Art Institute at Black Mountain.[1] Washington is known for her histcollages–a form of collaging evoking the connection between individual and collective memory that historicizes pre-civil war cultural experiences [2]. 
Preface
In a 2000 oral history interview conducted by Connie Bostic,[3] Mary Parks Washington details her time at Black Mountain College. In this interview, Washington discusses her experience as one of the only African American students at Black Mountain and how her histcollages reflect the individual and collective histories of similarly situated students and people of color. Most of this oral history explores the role of history, race, and memory, how life experiences develop the craft, and how her work represents a culmination of past, present, and future.
Like Washington, my life experiences and curiosities heavily influence my craft—be it writing, music, or visual art. I exist within the work whether I try to include me. I connect to Washington in her inclusion of time and how it runs together when your life decomposes molds set for your life. My creative background begins as a professional songwriter and country music artist, where I often explore my life and American history through song. After the 2016 election, I saw my path switch when I had to choose between a politically neutral career or fighting for justice. I chose the latter. Now I am here, merging my creativity, progressive agenda, and life experiences to fight for a more just world. I call my first project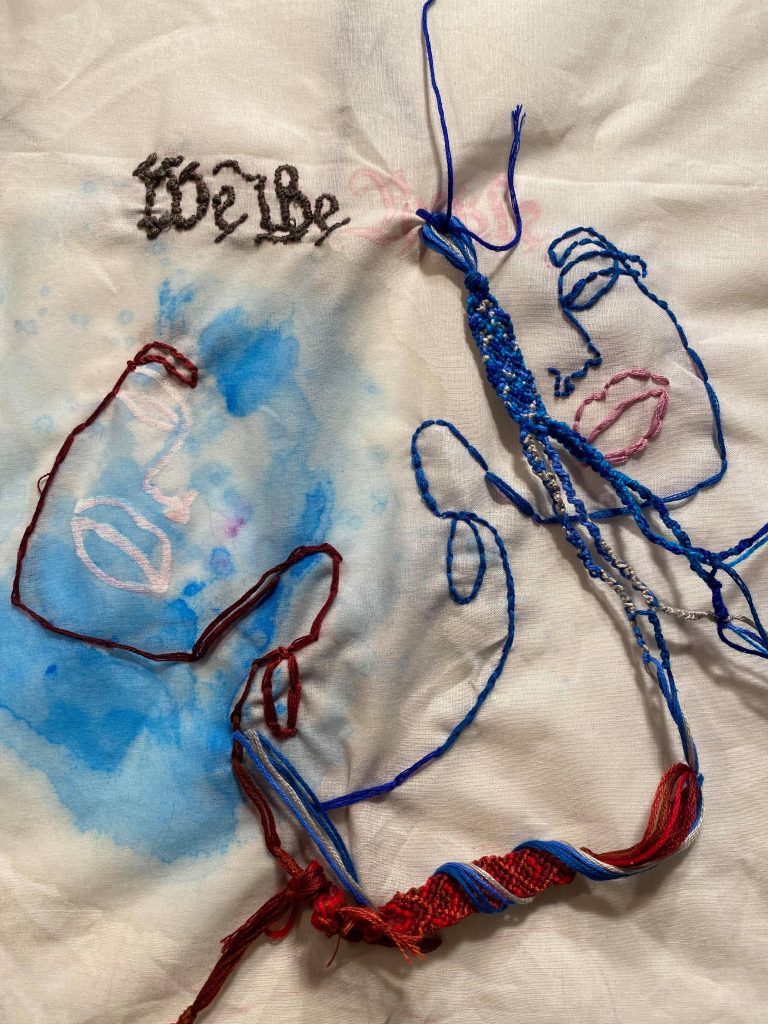 where I utilize traditionally feminine crafts to embroider women's unidentifiable faces, one camouflaged by others' existence. My second project uses CAD software to create what I imagine the conceptual glass ceiling where women remain trapped because patriarchy limits their mobility in public spaces. I intend to make this final project much more personal. You know me for my progressive politics, my radically feminist disposition; however, you do not know me that well. Mary Parks Washington explores how Black Mountain, its people, and spaces influenced her; so, comparatively, I plan to do the same.
A Letter to Mary Parks Washington
Dear Mrs. Washington,
My name is Kaley. I am a musician, writer, and political nerd from Seattle, Washington studying English and Political Science at the University of Washington. I write this to you while mourning the recent death of my father. No, he was not a victim of COVID-19. In life, he was never a victim; however, death brings a different story. Three years ago, his Multiple Myeloma began smoldering, and his physical condition worsened. I moved back to his home with my mom in my second year of college to care for him. My dad and I have always been close—from our late-night talks on the political state of the world to sitting in the passenger seat of his pickup truck licking an extra-large ice cream cone. I drove him to his doctor's appointments like he used to drive me to school in the morning when I was a little girl. He was my best friend, and everyone knew I was his favorite. Although I am biologically his granddaughter, he raised me and officially adopted me when I was eleven. He held my hand on my first day in the world, and I held his hand on his last.
On March 10th, at around seven at night, I closed the blinds in his hospital room. I turned around and watched as his belly stopped its slowing movements. His oxygen saturation and heart rate went undetectable. My mom (his wife of fifty years) panicked and asked, "What is happening?" I said, "I think he's gone," as I exited his private room to alert the nurses. I heard my mom scream, "Jim! No!" When I came back into the room, I saw my mom's body draped over my dad's, his breathing and heart rate resuming. My dad's eyes opened and investigated my mom's. They closed again, and he began falling into eternal sleep once more. I felt my body uncontrollably shake as tears started streaming down my face. I sat beside him, holding his left hand. I felt him squeeze it tightly as I told him it is okay if he goes, I would be okay and began singing his favorite song to him as his breathing slowed, heart rate stopped, and the flush of his skin tinted by his soul left his body. Not long after his death, my mom and I faced an unbearable number of official documents needing our ballpoint signatures and hundreds of dollars from our bank accounts. This experience leaves me thinking about your project piece titled Aunt Gussie.[4]
In your description of Aunt Gussie,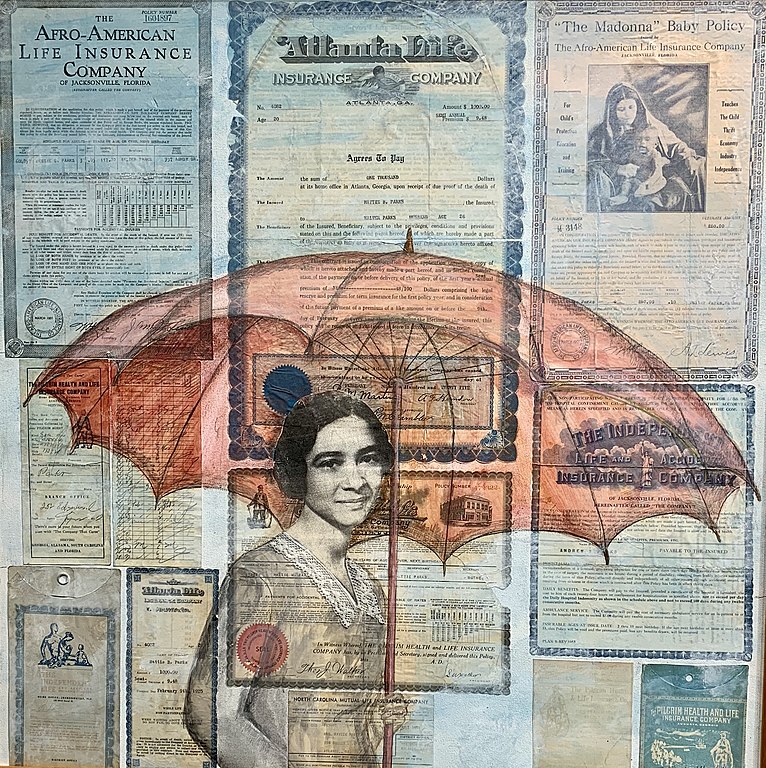 you write, "Aunt Gussie loved her umbrella and carried it rain or shine. Perhaps it was her shield of protection from the unhappy world in which she lived. Her focus was paying her weekly insurance policy and planning a fine funeral"[5]. In my experience and from what my dad always said, the only things certain in life are death and taxes. Aunt Gussie is an ageless reminder of everything, capturing the past, present, and future for those in the working class. My dad was devoted to his career as a lineman and crew chief at Seattle City Light, where he worked hard to ensure we had food on the table, a roof over our heads, college tuition for his children, and health insurance. On a similar note, I am a big fan of your piece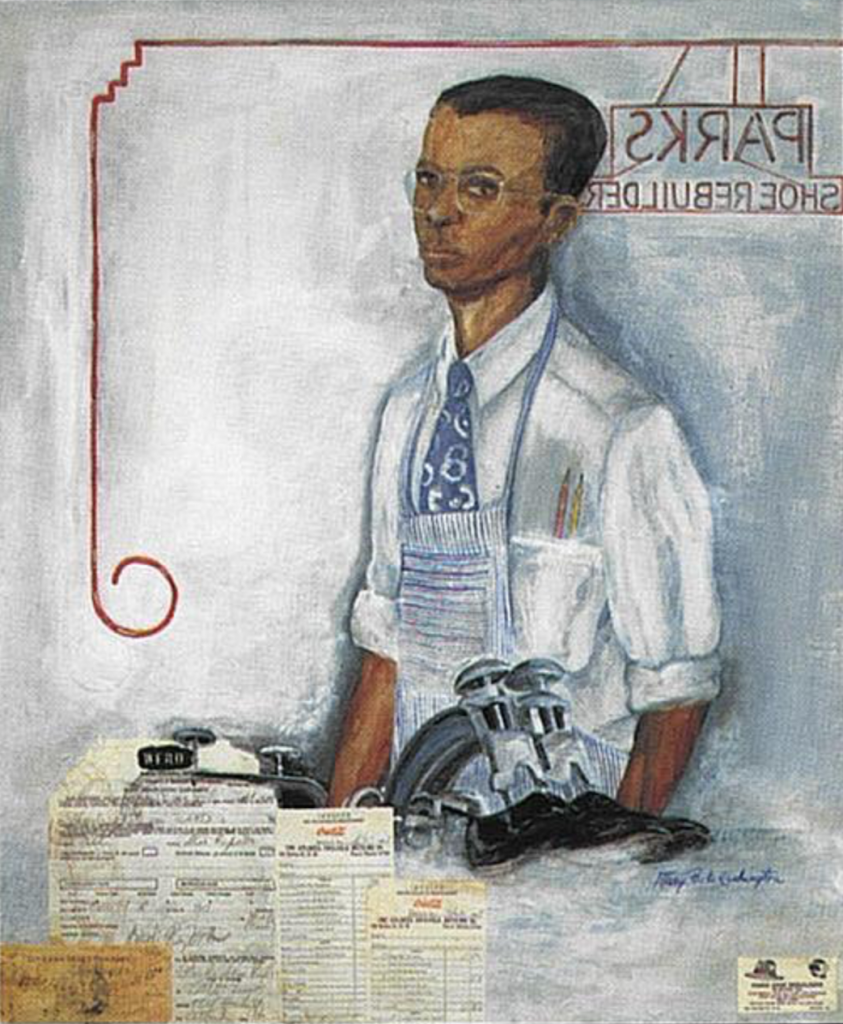 Savior of a Million Soles,[6] where you feature your father, a successful businessman who "saved a million soles" with his shoe repair shop. Not only was your father a successful businessman, but he was a community leader and strong example for you and others around him.
Similarly, my father was a highly respected and honorable man—so honorable that the city put his hard hat on display on a pole across the street from the Seattle City Light building on fourth avenue in Seattle. He did everything right when it comes to existing in a Capitalist society. Yet, his body was left in an ailing condition due to exposure to toxic environments while working. He sacrificed his life, health, and time for the City of Seattle, and the state of his body at the end of his life showed the damage; however, his soul and memory are ever more refined.
As the daughter of a blue-collar worker and the first in my family to attend college, my political dispositions are pro-union, increasing the minimum wage, and never crossing a picket line. When attending the University of Washington, I expected the institution to em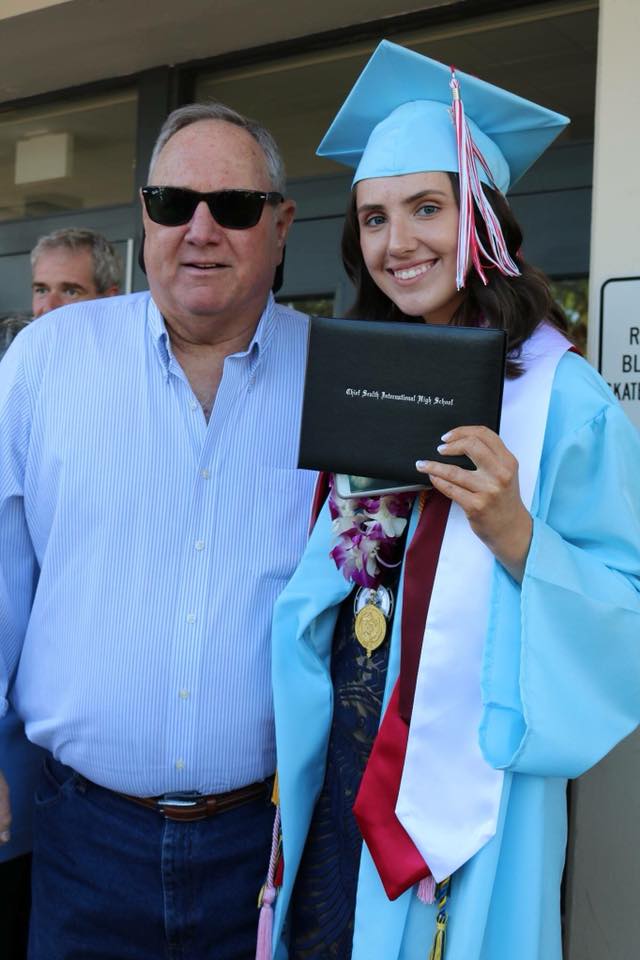 brace similar values. But much like your experience at Black Mountain, I feel suffocated by cellophane. Sure, I can stretch the bounds of this pseudo-liberal institution, but I would be unworthy of its support if I were to escape it. Therefore I best, to some extent, conform to its status-quo. Did you ever feel displaced around predominantly white folk raised by mostly white folk whose politics are liberal because they throw a leftist yard sign in the front yard of their million-dollar home in a gentrified neighborhood? I certainly have. I share your sentiment of not being too impressed by the "progressiveness" of a school like Black Mountain, suffocated by its ideology.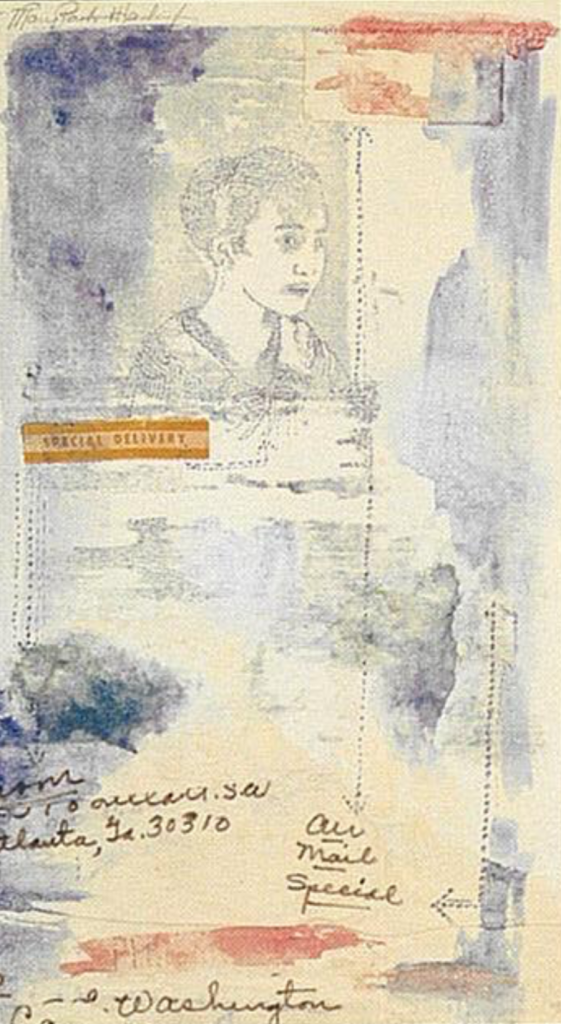 Was Surrounded by Cellophane inspired by your time at Black Mountain College and/or Spelman?
I learn more by observing everyday people. The stories my dad would tell me during our late-night chats were always the best. He told me about his mother and aunt, who turned him into a feminist, and how I have taught him how to be an even better, inclusive feminist.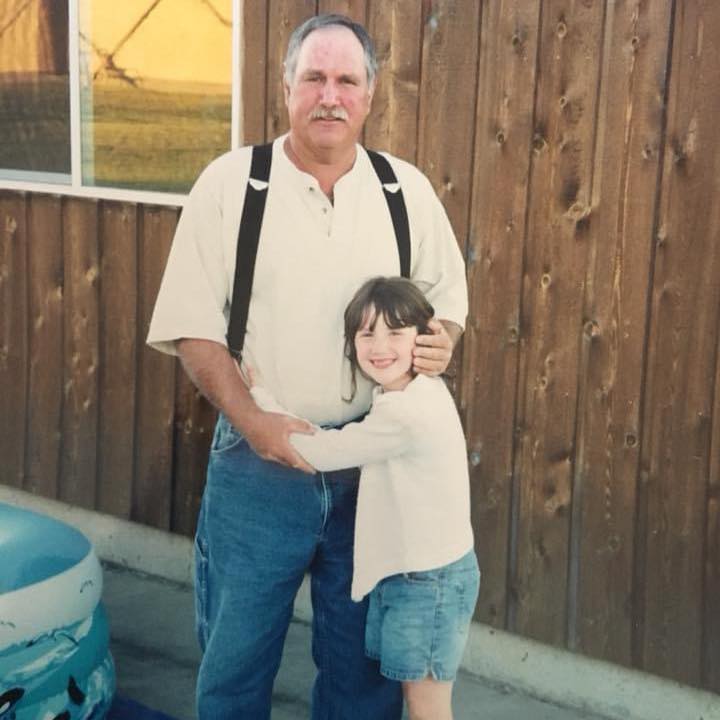 My best lessons always came from him and sometimes my professors; however, when my life experiences began debunking historical facts being told by old white Ivy-educated men, Papa's knowledge comes first.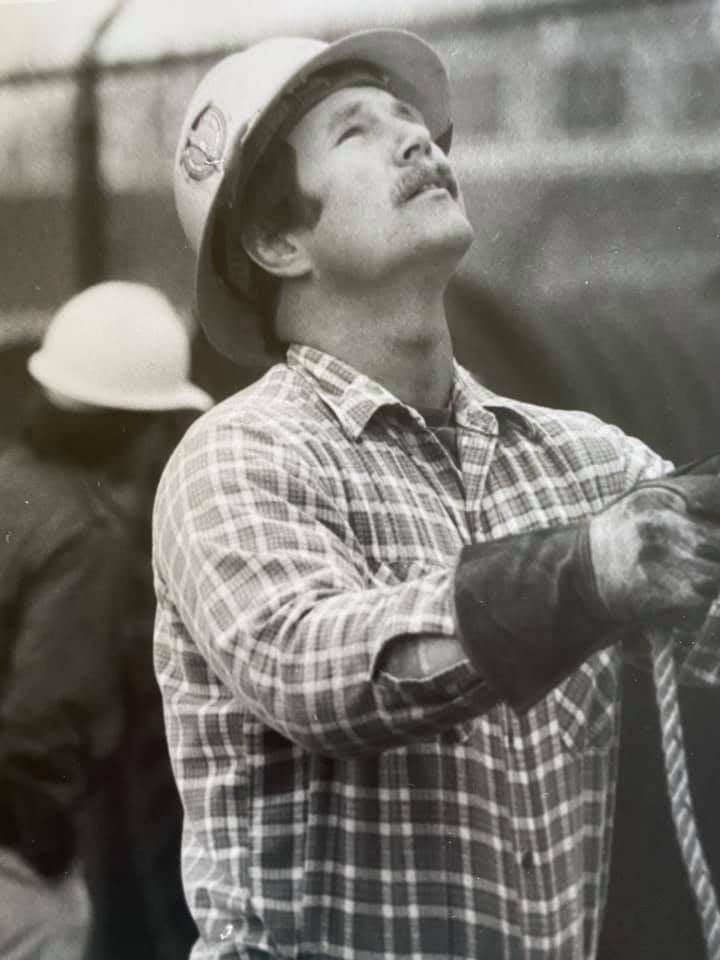 I will say that there is a difference when my educational spaces are filled with educators, researchers, and artists who come from diverse backgrounds. But the institutions themselves trap us with their privilege and crippling student debt, and we end up doing jobs we do not enjoy because it is what the economy demands at the time. Did you ever feel the pressure to conform to the economy and subsequently told to stop creating?
While in the process of my two making projects this quarter, I view the history of art and making as creative acts publicly displaying the inner workings of the artist's consciousness. For me, my consciousness revolves around contemporary politics. Given the state of my mind, most of my art reflects reproductive justice and feminist ideologies. My first project titled Penumbral Existence finds inspiration in Margaret Atwood's The Handmaid's Tale[7] and how wealthy and poor women exist different in the Republic of Gilead, and how women of color are non-existent in the eyes of the government. In Penumbral Existence, I utilize the historically feminine crafts of embroidery, creating the outlines of the women, and macramé, creating the chain around their necks. My premise in making Penumbral Existence is to contribute to the critical dialogue surrounding women's reproductive liberty in the United States Constitution. Similarly, in my second making project titled The Glass Ceiling, I used CAD technology to create a tangible incarnation of the theoretical glass ceiling where systemic patriarchy and white supremacy capsizes women's ability to exist equally with men because the system maintains stability from women's subordination.
My radical feminism and political consciousness do not simply stem from my desire to create a more just world, but from my experience of injustice in the world. I, like many women, are part of the 97% of women who experience sexual violence at some point during their lives. My rapist is a relative; however, my rapist is still a rapist. He is a white supremacist, loves Donald Trump, carved racist expletives into my car when I took him to court, and he thinks what he did to me should have no consequences. I am dedicated to including feminist and progressive political messaging in my art, writing, and disposition because sexism and racism are forever intertwined and emboldened by the system of white supremacy. The truth is, until we fully abolish the system of white supremacy; rape, sexism, and racism are going to exist as side effects that uphold this system. After reading your oral history, I assume your approach to art is similar in that it places your personally political dispositions into the atmosphere for a diverse digestion of discourse leading discussions on systemic dismantling.
The last thing I want to leave with you is that every piece of your art carries a political message. From Aunt Gussie to Surrounded by Cellophane, I am immediately met by people affected by these politics. Through your inclusion of official documents, I am met with pieces to their puzzle as government documents often fall into telling their story's collective experience.
Thank you for blazing trails, dedicating your life to creating, and the knowledge your legacy carries on.
With sincerest regards,
Kaley
Media Attributions
Kaley Aldrich Author Photo © Aldrich Family
Mary Parks Washington @BMC
Penumbral Existence © Kaley Aldrich is licensed under a All Rights Reserved license
Aunt Gussie © Mary Parks Washington
Savior of a Million Soles © Mary Parks Washington
Kaley and Dad 2017 © Aldrich Family
Surrounded by Cellophane © Mary Parks Washington
Kaley and Dad 2006 © Aldrich Family
Jim at Seattle City Light circa 197? © Kathleen Johnson
---